Located just 15 kilometres away from Nainital, Pangot, located in the Kosiyakutoli tehsil of the Nainital district of Uttarakhand is a small and picturesque hamlet. The village is at the height of 6,300 feet above sea level and is well known all across the world for its rich and exotic bird life. Pangot also becomes a hub for photography enthusiasts when hundreds of different species of birds flock here during the harsh winters in the upper Himalayas and settle down here temporarily. A step into the wilderness of Pangot, and you will find yourself amid a remote Himalayan village.
The entire drive that reaches up to this marvellous area passes through the forested areas of Cheena Peak Range via Snow View Point and Kilbury, both of which are famous and excellent habitats for birding. A myriad of bird species can be seen along the way to Pangot. Some of these include Rufous-bellied Woodpecker, Spotted & Slaty-backed Forktail, Himalayan Griffon and Khalij pheasant. Spotting mammals like Yellow-throated Himalayan Marten, Sambhar, Himalayan Goral, Leopard Cat, Serow, Wild Boar, Red Fox etc. is also not uncommon. The famous Corbett National Park is situated just 80 kilometres from Pangot. Thick oak, pine and Rhododendron can be found dominating the vegetation of Pangot and nearby areas. The streams that pass by further enhance the aesthetic appeal of this breathtakingly fantastic sight. Undoubtedly, Pangot is the apt place for a small vacation with your partner, or the entire family, wherein you can simply lay back and relax.
Access Information
Nearest Airport -Pantnagar (79 kms), Pithoragarh (190 kms), Ghaziabad (256 kms)
Nearest Railway Station – Haldwani (48 kms), Kathgodam (50 kms), Ramnagar (70 kms)
Pangot is an Ex-Dehradun / Ex-Noida / x-New Delhi / x-Faridabad / x-Gurgaon / x-Agra / x-Lucknow / x-Kanpur / x-Chandigarh

 Getaway
Introduction of the key interest place
This is the lake town in the hilly region of Kumaon. The city is built around the lake Naini, and the city is surrounded by seven mountains Sapta Shring. Nainital was the summer capital of UttarPradesh for many years during Bristish regime and also after independence. It is said in mythology that when Lord Shiva was carrying the body of Sati, her eyes fell at this place and came to be known as Naini Tal. The nearest railroad is Kathgodam, this place is very popular with tourists of nearby towns especially Delhi who come here to escape the scorching heat of the capital city. Nearby places of interests are BhimTal, SatTal.
Located in the heart of Nainital, it offers boating facilities on its emerald waters. Boat Club provides strip-sailed yachts with a professional yachtsman to do the sailing. One can also enjoy horse riding on the tree-shaded bridle path around the lake. Legend has it that while Lord Shiva was carrying the body of his consort Sati, who jumped into the sacrificial fire or Havankund which was organized by her father Daksha Prajapati, her (Sati's) eyes dropped out at his place and thus the place came to be known as Nayana Tal or Nainital. Permits for angling can be obtained from Executive Officer, Nagar Palika, Nainital.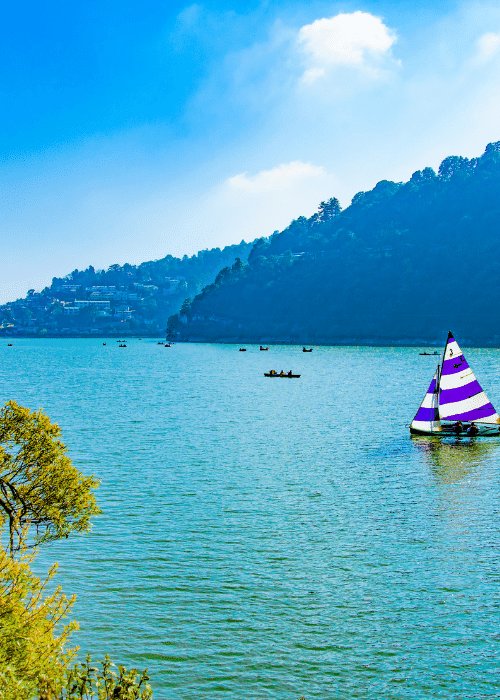 Stretched over an area of 520 Sq. Kms. in the Nainital District of state Uttaranchal Corbett National Park is India's first and finest park along the banks of the Ramganga river. The park was established on August 8, 1936 in honour of Sir Malcolm Hailey, then Governor of the United Provinces, and it was called as "Hailey National Park" but he name of this park the name was changed to "Ramganga National Park" in the year 1952.
Finally in the year 1957, it was named as "Corbett National Park" in honour and memory of the Legendary Hunter turned, Naturalist, Author and armature Photographer, Colonel Edward James Corbett, who had helped in setting up the park and demarcating its boundaries.
A perfect place for wild animals, Corbett National Park has always been a favourite sanctuary of Wildlife lovers, environmentalists, zoologists, botanists and tourist Every year this park houses many prominent political leaders, film celebrities and business tycoon for their holidays.
The park is surrounded by the thick forest and a river flows through the park. There is a lake inside the park which enhances the natural beauty of this park. Many species of water birds, both migrant and non-migrant, frequently dips in it's water. Crocodiles and long snorted fish-eating Gharial are often seen sun basking on the sand banks.
Situated at an altituted of 1,219 mts. , it is a beautiful nine cornered lake ideal for fishing and watching migratory birds. Accomodation is available in tourist Rest House & private resorts.
40 kms. from Lohaghat at the confluence of river Kali and Saryu, Pancheshwar forms the borders with Nepal and is famous for the temple of Chaumu, its fair and a dip at the confluence is considered to be very sacred. The Jaat (jamaan) of Chaumu comes down from villages Sail, 5 km. above the temple. Chaumu is worshiped as a protector of animals. Bells and milk are offered in the temple of Pancheshwar. Chaumu Jaat of Pancheshwar has its unique way of cultural expression. The temple at Pancheshwar is devoted to Lord Shiva.